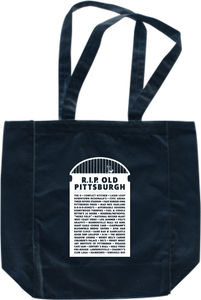 Feeling Nostalgic?
The team at Pittsburgh City Paper has created the R.I.P Old Pittsburgh Tote Bag to remember some of our favorite attractions, restaurants, clubs and moments in Pittsburgh history. 
Whether you are an old yinzer or a newbie to the Steel City, take a trip down memory lane with this commemorative item!
All proceeds support local journalism.
Included:
The O, Conflict Kitchen, Laser Loop, Downtown McDonald's, Civic Arena, Three Rivers Stadium, Fake Burger King, Pittsburgh Press, Mad Mex Oakland, Donzi's, Affordable Housing, Kennywood Turnpike, Fuel & Fuddle, Ritter's 24 Hours, Rosebud/Metropol, "Heinz Field", National Record Mart, West Coast Video, Log Jammer, Poli's, Graffiti, Monroeville Mall Ice Rink, Giant Eagle Cookie Card, Kaufmann's, Bloomfield Bridge Tavern, Kiva Han, Bayer Clock, Sand Bar @ Sandcastle, Good Ship Lollipop, B-94, The Beehive, Shadow Lounge, Wendy Bell's Career, Children's Palace, Del's, Fright Night, Art Institute of Pittsburgh, Pegasus, Cafe Same, Century 3 Mall, Iggle Video, Pre-Bougie Lawrenceville, Chauncy's, Club Laga, Hambones, Sinkhole Bus
Please allow 7-10 business days for shipping. 
Printed on Liberty Bags 9861 Cotton Tote Bag